Welcome to Neurotherapy
Dr. Ramesh kumar is well trained neurotherapist from LMNT Neurotherapy academy Mumbai. He has extensive experience in Neurotherapy. He is well trained to manage All kind of chronic diseases without medicines and has various Neurotherapy techniques to treat the critical illness in natural way and has proven miraculous results on hundreds of patients. Neurotherapy is an ancient Indian rehabilitative therapy based on the vedic principles & philosophy. This natural healing therapy deals with nerves, muscles, joints and blood & lymphatic channels.

Neurotherapy is a complete system of healing, incorporating mechanical, psychological, bio-force, and biochemical aspects. It discovers the root cause of the disease and treats the same in an integrated manner. The disorder of the bodily organs causes an imbalance in the biochemical forces leading to the development of diseases. The therapist activates or deactivates the organ(s), through pressure or massage on the nerve channels to stimulate or depress the blood, & other body fluids and the nerve currents so as to restoring the balance and harmony of the body thus helping the body regain its equilibrium. If you or someone you love is affected by chronic illness, or if you are seeking a program to maintain health, you have come to the right place.
read more...
---
Neurotherapy
The principals of neurotherapy as enumerated by Dr. Lajpat Rai Mehra targets proper circulation of blood to activate and cure the affected organs, with a simple and pain free, medicine free therapy. The therapy can cure almost all forms of ailments and has tremendous followers including Allopathy doctors, Judges, Senior Govt. Officers, School Principals, Chief Ministers and people from all walks of society.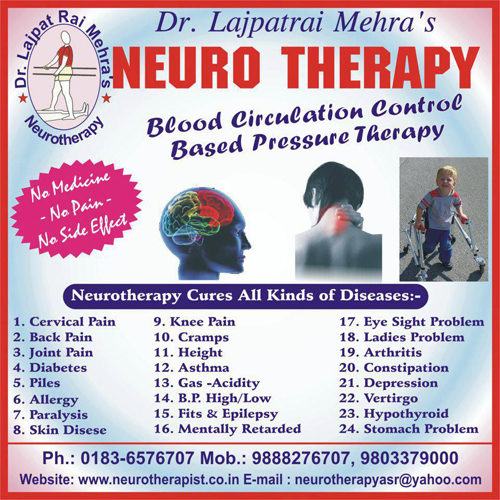 Some of the diseases treated through Neurotherapy

*ADD / ADHD * Autism * Abdominal Disorder * Acidity * Asthma * Back Pain * Blood Pressure High / Low * Constipation * Cancer * Cerebral Palsy * Cervical Problems * Chikungunya * Depression * Diabetes * Eye * Fits Problems * Gas * Good Metabolism * Heart Disorders * Insomnia * Knee Pain * Liver Disorders * Menstural Disorder * Migraine * Mongolism * Motor Neuron Diseases * Multiple Sclerosis * Muscular Dystrophy * Paralysis * Parkinson's Disease * Removal of medicinal Side Effects * Skin Problems * Thyroid Disorders * Weight Loss/ Gain